Honoring Leadership and Program Excellence Award Winners at Annual Board Meeting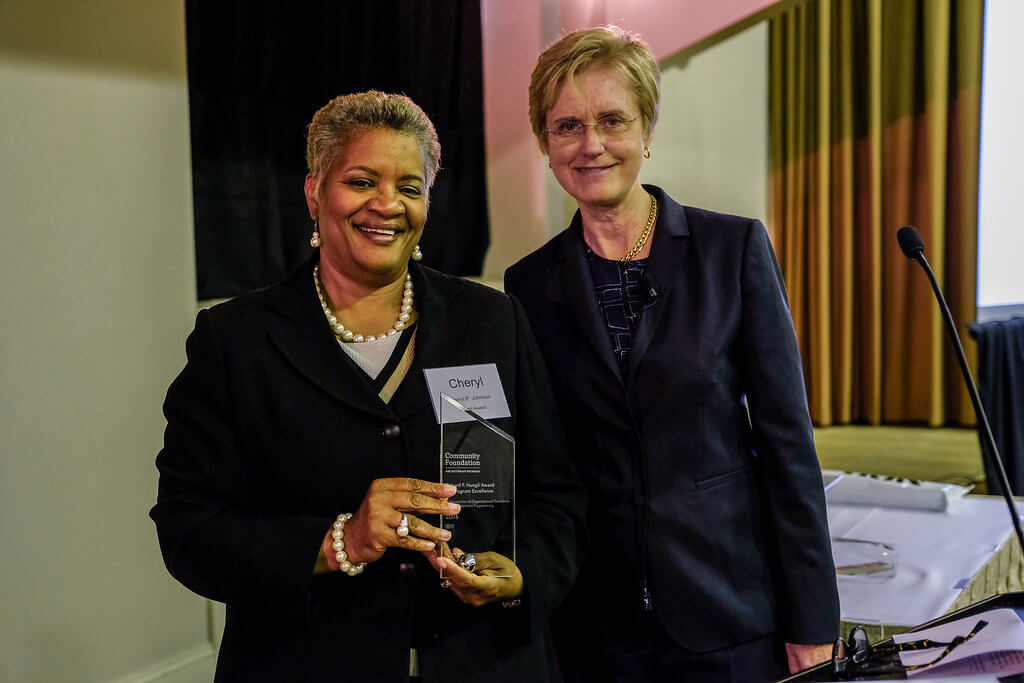 CFSEM President, Mariam Noland, presents Cheryl Johnson, Chief Executive Officer, COTS, with the Richard F. Huegli Award for Program Excellence.
---
The Community Foundation has announced that Kary L. Moss of the ACLU of Michigan was selected as the recipient of the 2018 Mariam C. Noland Award for Nonprofit Leadership, and the Coalition on Temporary Shelter (COTS) has been selected as the recipient of the 2018 Richard F. Huegli Award for Program Excellence. Both awards were presented at the Community Foundation's Board of Trustees June meeting.
Named after the Community Foundation's first and current president, the Mariam C. Noland Award for Nonprofit Leadership recognizes a nonprofit president or CEO in southeast Michigan whose service exemplifies the importance of leadership in his or her organization and the wider nonprofit community.
Kary L. Moss has served as the Executive Director of the ACLU of Michigan since 1998. Next month, Moss will join the ACLU's senior leadership team as the Director of Affiliate Support & Nationwide Initiatives, based in New York, NY. As Executive Director, Moss led a robust program that includes many high impact, important civil rights initiatives addressing the rights of children, the poor, LGBT and immigrant communities, women's rights, voting rights, and access to a high-quality education. Moss also had played an instrumental role in uncovering the Flint water crises through her innovative move of hiring a journalist on staff.
"Mariam Noland has shown exemplary leadership in supporting organizations that empower communities," says Moss. "I am truly honored to be receiving this award from a woman who embodies integrity and possesses the talent to bring people and organizations together around a common goal."
The Richard F. Huegli Award for Program Excellence identifies a nonprofit that reflects Mr. Huegli's high standards in human services programming and belief in human potential. Huegli, who passed away in 1988, was an integral figure in the region's human services sector for nearly half a century, spending 42 years with United Community Services of Metropolitan Detroit, now part of the United Way for Southeastern Michigan. He later helped to establish the Community Foundation for Southeast Michigan and served as the Foundation's acting director in its first year of existence.
Since 1982, COTS serves the most vulnerable members of the Detroit community with a wide continuum of services, ranging from outreach and emergency shelter to permanent housing. All services are designed to meet the organization's mission of alleviating homelessness by empowering people to achieve self-sufficiency and obtain quality, affordable housing. The COTS emergency shelter provides a safe place to stay; three hot, nutritious meals per day; toiletries; clothing; bedding; and pillows to an estimated 1,200 individuals annually. It also helps more than 500 families find permanent supportive housing and transitional housing.
"It's a huge honor to be selected," says Cheryl P. Johnson, Chief Executive Officer of COTS. "Since 1995, the Community Foundation has been a continued supporter of COTS and our mission in serving families without a home in Detroit. This award goes out to our staff for all of their hard work, day in and day out, in providing excellent housing and homelessness services."
"Both of the respective winners are well deserved," says James B. Nicholson, Chairman of the Community Foundation for Southeast Michigan. "The performed by Kary Moss and COTS is invaluable to the residents of southeast Michigan. We respect their missions and the work they do to improve the quality of life in the region."