2018 Message from the President and Chair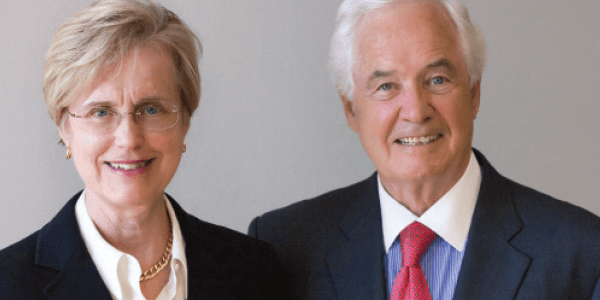 Great communities thrive when people work hard to make good things happen. The Community Foundation for Southeast Michigan brings people and resources together to make our region a place where all have the opportunity to thrive. Over the past year, the Community Foundation engaged with local communities and supported thousands of organizations and individuals, helping them carry out their dreams. We're pleased to report on a year of strong growth, and the implementation of expanded initiatives.
As a permanent source of community capital, the Community Foundation takes the long-term view of promoting lasting, positive change, but we do so with the sense of urgency. Our mission is to promote community philanthropy in the seven counties of southeast Michigan, and to invest in programs that have positive impact. The Community Foundation has had remarkable growth thanks to the support of thousands  of donors. For the first time, our assets at year-end were over $900 million, which places us among the largest 30 of approximately 800 community foundations nationwide. In 2017, we received more than $86 million in new gifts, and we benefited from an endowment investment return of 15.5 percent.
Last year, we distributed nearly $78 million to effective nonprofit organizations and promising programs. Our grants addressed a broad range of activities. This report highlights three areas that the Community Foundation has supported over the years: leadership development; outreach and collaboration among arts and cultural organizations; and services for older individuals. These are just three of the many areas we focus on in our grantmaking.
In 2017, the Community Foundation connected with residents in local communities. On the Table was a new investment in the future of young people. Residents from throughout the seven counties were invited to host On the Table conversations at their homes, places of business, or anywhere a small group of people could gather. Thousands of individuals participated in discussions about how to make communities stronger places for all youth to learn and develop. On the Table conversations covered diverse community perspectives and inspired new ways to work together. Some ideas are already being implemented.
The Foundation, in partnership with the Max M. and Marjorie S. Fisher Foundation, also invested in capacity- building for neighborhood leaders serving the Brightmoor neighborhood in northwest Detroit. Community Foundation staff held technical assistance sessions in the neighborhood to help residents design projects that would address the needs of their community.
Having access to high-quality information spurs positive action. The Community Foundation and the Ralph C. Wilson, Jr. Foundation collaborated to examine the status of youth sports across the seven counties. The report, called "State of Play," was prepared by the Aspen Institute's Sports and Society program and is available on our website. The results were startling. Only 13 percent of youth across southeast Michigan are physically active for at least one hour a day, which is the amount recommended by the Centers for Disease Control and Prevention. Recommendations in the report are based on eight strategies designed to increase sports participation. The Community Foundation held meetings throughout the seven counties to learn what strategies were of most interest to residents. The information gathered is guiding the development of new programs.
During the year, the Community Foundation deepened its involvement in promoting quality journalism and access to information. When citizens are more informed, they are better able to make decisions about their own lives and to enact change in their communities and civic institutions. The Detroit Journalism Engagement Fund of the Community Foundation was developed in collaboration with the John S. and James L. Knight Foundation and the Ford Foundation. The fund first supported a review of regional media platforms including print, digital, radio, and television. Through the fund, grants were made to collaborations across local media outlets to advance quality journalism. Additional investments will be made in the coming months.
Also, during 2018 a series of conversations will connect national leaders in data and information science, First Amendment policy and law, and other topics with local residents who are concerned about how changes in information are impacting their communities and our democracy.
The New Economy Initiative (NEI), the largest of the more than a dozen targeted programs managed by the Community Foundation, is supported by 13 foundations and works to diversify the regional economy and stimulate entrepreneurship. Completing its 10th year of investments, NEI has awarded 386 grants to organizations that have assisted more than 9,500 companies and launched 2,500 new businesses. These organizations employ more than 24,000 people and have leveraged $1.2 billion in capital. During 2017, NEI continued investing in neighborhood enterprises in low-income communities, supporting the development of high-growth businesses, assisting minority and women founders of high-growth companies, and highlighting stories of entrepreneurs who are changing our communities.
Our ability to support these and many other exemplary activities is possible because of the support of thousands of people who entrust their charitable giving to us. We are grateful for their support. We deeply appreciate the service of our dedicated Board of Trustees. We would like to recognize the service of Trustees Alfred R. Glancy III and Eugene A. Miller, who stepped down from our Board in 2017. Both were founding Trustees of the Community Foundation, and had a major role in our success. We welcomed Barbara L. McQuade as a new member of the Board. We warmly thank all of our volunteers and staff for another year of commitment and hard work.
We encourage you to contact us if you would like to know more about the Community Foundation and our activities. There are countless ways we can connect you and our donors with programs and opportunities that will meet your objectives and fulfill your vision for giving back to the community. We would like to hear your thoughts about how we can have the most impact on the region. We are always open to exploring new ways to connect with and learn from our communities. Let us know what you think.
As always, we deeply appreciate your support.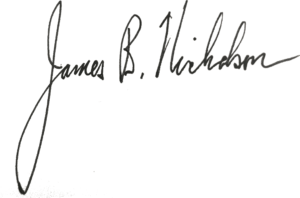 Mariam C. Noland                                     James B. Nicholson
President                                                    Chair of the Board of Trustees