New Chase Branch Opens, Bank Invests $30B in Equity Programming, $1M in Minority Initiative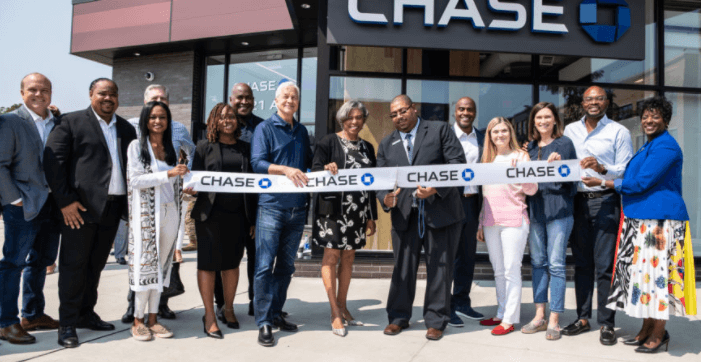 This story was originally published in The Michigan Chronicle.
Chase Bank has already established itself in its over 85-year history in the city of Detroit as a community-centered financial institution.
Now, they are expanding their footprint with a new Corktown location that features a community-inspired model with plans to help more Black & Latinx consumers grow businesses.
On Thursday, August 5, Chase held a grand opening of its first Community Center branch in Detroit on 1620 Michigan Ave, complete with a ribbon-cutting ceremony on the bustling street corner in front of the business.
…
Chase officials also described how they are making it a priority to promote the growth of Black- and Latinx-owned small businesses, including through increased lending and technical assistance to businesses in Black and Latinx communities.
To help advance this commitment in Detroit, the firm announced a $1 million philanthropic investment in the New Economy Initiative (NEI) to help support the local small business ecosystem and create an innovation fund to pilot new programs and products to support micro-entrepreneurs, according to the press release.
This new fund builds on NEIs reasoning on existing and new small business owners that are navigating the challenges of COVID's impact and looking ahead for growth opportunities. Through the NEI network, small businesses will be able to access capital, practical assistance, information, and trusted connections to business resources. NEI is a philanthropic collaboration and special project of the Community Foundation for Southeast Michigan.