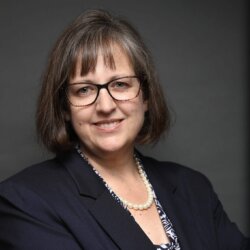 Katie Brisson, Vice President of Program at the Community Foundation for Southeast Michigan, has been named one of Crain's 2022 Notable Women in Nonprofits.
From Crain's Detroit Business:
Under the leadership of Katie Brisson, the Community Foundation has launched multi-funder collaboratives such as the Michigan Opioid Partnership; the Community Policing Innovations Initiative; the Detroit Journalism Engagement Fund, which seeks to advance quality local journalism while reflecting the perspectives of diverse constituencies and communities; and the Pontiac Funders Collaborative, which has led to over $3 million in investments.
Brisson, who was promoted to her position in 2012, was key to the foundation awarding 5,000 grants totaling $103 million in 2021. She also has increased the representation of Black, indigenous and people of color in her department to 50 percent from 27 percent and applies a lens of diversity in all the group's grants.
"Katie has been a critical adviser and valued partner to our group and is a steady and thoughtful leader whom we are so fortunate to have in our region," said Maura Dewan, vice president of corporate affairs at the Ralph C. Wilson, Jr. Foundation.
We are incredibly grateful to Katie for her passion for excellence and her leadership in helping to create permanent, positive change in southeast Michigan.