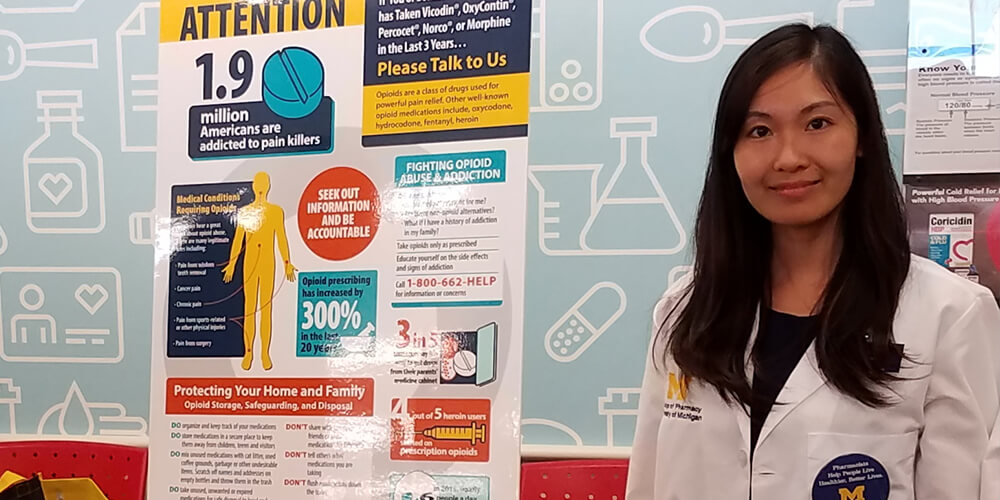 A Scholarship's Impact
When Clinton Township resident Polly Luo was a high school student at the International Academy of Macomb, she had a lot more on her mind than getting good grades. In her junior year, Polly lost her father to complications from cancer treatment.
Despite the challenges at home, Polly's mother encouraged her to apply to Michigan State University. Polly was able to enroll with help from the Jeptha Wade Schureman Scholarship — a renewable $7,500 scholarship established by the Community Foundation that supports college students who lost their fathers through either death or by termination of parental rights as minors.
For the next eight years, Polly annually received the full amount provided by the scholarship, helping her on her path to complete both her undergraduate degree in human biology at MSU and her Doctor of Pharmacy at the University of Michigan College of Pharmacy.
For students of all backgrounds, the scholarship process can be extremely competitive. But for non-traditional students or others with unique circumstances, securing a scholarship can be a tremendous relief.
A Better Way for Scholarships
At the Community Foundation, we hold nearly 50 scholarship funds designed to help students attending technical schools, community colleges, and other forms of higher education, including traditional four-year universities.
Among our scholarships, 21 of them simply require a general application. So rather than learning the in's and outs of each scholarship, applicants only need to submit one application to be considered for acceptance. Applicants are then matched with potential scholarship opportunities based on responses to specific application questions, such as career goals or their planned college major.
The Community Foundation also offers scholarships, like the Jeptha Wade Schureman Scholarship, intended to assist non-traditional students and those past their first-year of college.
Unlike national programs, scholarships at the Community Foundation are also regional, so students are not competing with thousands of applicants across the country. In previous years, about 600 applicants have applied to the Community Foundation, and about 100 scholarships are made each year to non-traditional students. That means applicants have about a one in six chance of earning a scholarship.
If you or an aspiring student you know may qualify for one of our scholarships, we encourage them to apply here. Like Polly Luo, it can lead to a promising education, career, and beyond.