Support for Recovery of Nonprofit Organizations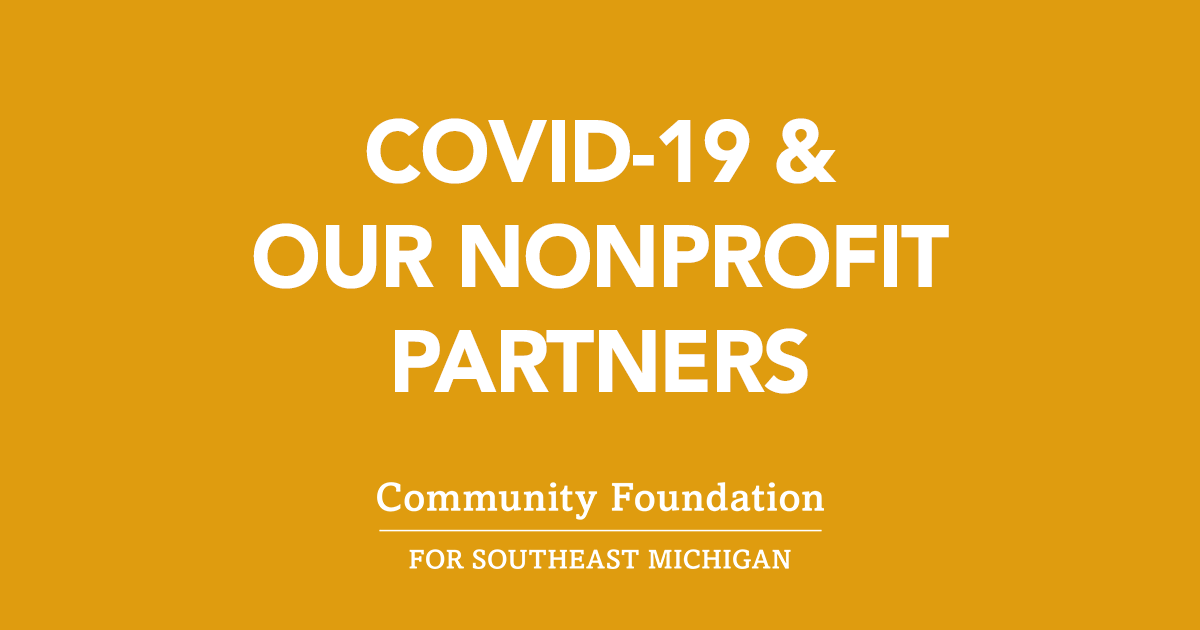 For New Applicants:
As of April 15th, we replaced our standard grantmaking guidelines with revised guidelines for the remaining two grant cycles of 2020. These have been redesigned to provide more flexible but targeted funds due to COVID-19 related challenges. You can find information on applying here.
We know we won't be able to assist all nonprofits across our seven counties, but we will be working to support as many as we can– especially those who are taking innovative approaches to recovery and restoration of their programs and organizations.
Other COVID-related activity:
In addition to considering new applications, the Community Foundation is engaging in proactive grantmaking related to COVID-19 relief efforts.
As we learn how best to address this evolving pandemic, the impact of regional collaboration and local contributions has never been more apparent. As such, we launched four COVID-19 response funds to address some of the emerging issues you are telling us about. We wanted to provide tools to our donors and partners who want to give.
We are identifying issue areas, informed by what we are hearing from you, of where the limited funds we have raised can be targeted to make a difference. At this time, we will have an invitation-only process for these COVID-19 response funds unless otherwise noted, as we don't want you spending time on applying unless we know we have funds to address your areas of need.
Across the four funds, approximately $8 million has been raised and $4 million of that has been granted. In short, that activity has included:
Through the Health COVID-19 Relief Fund,  $1.1 million has been granted to support a range of issues, including: testing for first responders, homeless and other high risk populations; contact tracing; and operational support for community based health centers, health departments, and area agencies on aging.
Support through the COVID-19 Arts and Creative Community Assistance Fund has enabled the launch of a grant program through our partner, CultureSource. It is open to arts and culture organizations in southeast Michigan, and is focused on relief and recovery. Applications are due May 1, and information can be found here. It is anticipated that $500,000 will be awarded through this effort.
Through the COVID-19 Small Business Relief Fund, the Community Foundation's New Economy Initiative has provided $1.3 million to provide six months of loan payments (provided directly to five lending organizations), to cover the payments for approximately 300 borrowers in good standing, preserving businesses and their ability to seek credit and the balance sheet of critical community lending organizations. This focused on entrepreneurs in Detroit, Hamtramck, and Highland Park, who are served by Invest Detroit, Michigan Women Forward, ProsperUS Detroit, Detroit Development Fund, The Detroit Community Loan Fund, and Build Institute's KIVA. In addition, $600,000 was contributed to the TechTown Stabilization Fund, for the smallest of small businesses with fewer than 10 employees in the cities of Detroit, Hamtramck, and Highland Park.
Lastly, grants made through the COVID-19 Flexible Fund are addressing issues that arise in the communities in our region as a result of the COVID-19 crisis. Our decisions about these grants are informed by what we hear from our nonprofit partners. The running list of needs we've collected from our grantees across the region so far far is here. One example of grants from this fund includes a slate of nine grants this week to domestic violence and sexual assault prevention organizations across the seven-county region who are seeing an increase in demand for their services during this time.
In addition, a group of local funders came together to quickly create the COVID-19 Local Media Education and Reporting Fund. Twelve hyper-local media organizations are receiving grants this week from that fund, totaling $150,000 to help spread important information to high-risk populations about COVID.
Outside of these funds, many of the funds we manage that have unique advisory committees have also made special grants in this time. For example, our affiliate, the Community Foundation for Livingston County, awarded $75,000 grants to 7 organizations for urgent needs. Likewise, the Chelsea Community Foundation, another affiliated organization, granted $140,000 dollars to 11 organizations in that community.  These are just a couple examples of the generosity of our partners and donors in this time.
For Existing Grantees:
If you are an existing grantee of the Community Foundation, please make sure to check out information here about ways we can be flexible with your current grant.
We hope this gives you a feel for some of the activity underway at the foundation. Please know that we appreciate the good work being done by so many at this time. We continue to keep you in our thoughts, and hope all are staying safe.